Yorkshire Building Society

Leaders in financial and banking services provider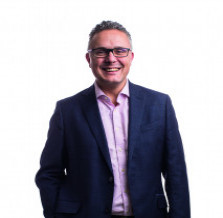 Name: Mike Regnier
Website: www.ybs.co.uk
Position within the company: Chief Executive
How long within the company: Mike joined Yorkshire Building Society in 2014 as Chief Commercial Officer and became Chief Executive in 2017.
Number of employees: 3,382
Annual revenue (2019): £450m
What are your values as a company leader and how do you ensure these values are upheld by employees and consultants in the company?
We put customers at the centre of everything we do, and our colleagues are a vital part of this. As an organisation, we are empathetic, open, honest and passionate about working together to deliver the right outcomes for our customers. We are a socially responsible business, which strives to create value for society as a whole through helping people to have a place to call home and improving their financial wellbeing.
As a building society, our members are our customers and our shareholders. All of the money we make is either reinvested in the business to help our members, through more competitive rates, flexible products and improved services, or kept within the Society to make us financially stronger and more resilient.
The current environment has really demonstrated how our colleagues live our values. They are going to extraordinary lengths every day to deliver essential financial services to our customers, whilst staying safe, supporting each other and managing uncertainty. They are a real credit to the Society and I'm extremely proud of the way they have reacted to the impacts of Covid-19.
What would you say were the most important highlights and low points of 2019 for Yorkshire Building Society?
In 2019, we increased customer satisfaction, grew both our mortgages and savings balances by £1.0bn, and helped tens of thousands of people to secure a place to call home and improve their financial wellbeing. We also increased our underlying profits, helping us to strengthen the business in a competitive market and ensuring we are well-placed to weather the current environment.
We were proud to have achieved a Net Promoter Score of +51 in 2019. This score measures customer satisfaction and was up 10 points from +41 in 2018.
As a mutual, keeping our costs down is vital. In 2019, we cut our costs by 7%, and managed to achieve this alongside investing in and launching our new mortgage application platform for brokers through Accord, our intermediary arm. We also invested in our IT capabilities, operational resilience and our digital programme.
We continued our work to help people into homes. As well as helping an estimated 49,000 into homes through mortgage lending, our colleagues and customers raised £244,000, bringing the total figure raised for our charity partnership with End Youth Homlessness (EYH) to £791,000, against our original target of £750,000. This has enabled over 400 young people and 90 dependent children into a home of their own so far.
It was good to see our members continue to build financial resilience and wellbeing by saving with us, opening 243,000 new accounts and increasing our total savings balances to nearly £31bn. On the community side, we hit a huge milestone, announcing a few weeks ago that our colleagues had delivered our Money Minds financial education programme to over 25,000 children and young people since launching in 2015.
Our consistent success over the past five years means that as a business, we entered this crisis from a position of strength. Our aim is to emerge stronger still.
Which new services are you currently working on and how will these impact the industry? Does innovation bring more complexity and risks than benefits?
Digitalisation is a key priority for us and we're continuing to invest in this area. One of our key projects is a mobile app for savers, which we expect to launch in the next couple of months.
Customers can already transact online, by telephone or in a branch, but this extra channel will bring our customers some real benefits.
As well as being quicker and more convenient for some of our customers, features such as biometric data security can really support our vulnerable customers, as they don't need to be able to remember passwords, interact or even be in front of a computer to check balances and carry out transactions.
Innovation can be complex, particularly in a heavily-regulated industry, but like all financial services organisations, we make decisions on where, when and how to invest only after doing very thorough research on the costs and benefits of propositions.
As a member-owned organisation, it's crucial that we use our resources wisely so we have very robust processes in place to make sure that the benefits to our customers outweigh the investment and we are continually improving our services.
Banks and building societies are expected to fulfil an important role in society, especially in this difficult period. What are your thoughts on this?
Covid-19 has impacted every aspect of modern life. We are doing everything we can to help our customers, our people and our communities in these challenging times.
From the outset, our response to the impact of Covid-19 has been to focus on two key priorities: the health and wellbeing of our colleagues and customers, and continuing to provide the very best service we can when our customers need us most. These priorities haven't changed.
We quickly put in place social distancing and other precautionary measures to protect our colleagues and customers. We kept branches in as many communities as possible open to support members with essential financial transactions throughout the lockdown. All colleagues who can work from home are doing so.
For our people, we're providing unlimited fully-paid dependents and carers leave, and confirmed to all colleagues that if they're self-isolating, shielding or unwell, they qualify for sick leave at full pay. We not furloughed any of our teams, and, based on what we know now, we do not anticipate any redundancies as a direct result of Covid-19 either.
Our community work hasn't stopped either. Yorkshire Building Society's Charitable Foundation has pledged £100,000 to provide emergency relief to charities in our communities which have been impacted by Covid-19.
For our customers, we've offered mortgage payment holidays of up to three months for those who've been financially impacted by Covid-19, and are in the process of extending these if customers still need this support. We also allow customers in financial need to access fixed rate savings without any penalty. We've ensured we kept our customers updated daily through our digital channels and we've put in place e-forms and online support to help those who need this service.
We've continued to lend on mortgages because we recognise that even though the housing market has slowed down, life hasn't stopped. People still need to switch their mortgage to get a better deal, or continue to progress a new application so once the restrictions are no longer in place, they can move into their new home. With normality resuming now, the housing market is opening up again and we're here, continuing to provide excellent levels of service to existing members and cementing lifelong loyalty with new customers.
How can banks and building societies across Yorkshire be more competitive in order to better assist local companies?
Mortgage brokers are a key part of the mortgage industry – whilst some borrowers are experienced and comfortable with dealing directly with lenders, many need impartial insight and advice. Brokers provide this service.
Through our intermediary arm Accord, we deal with all types of brokers, from the larger organisations to small businesses and we're keen to support them wherever we can. This includes providing excellent customer service through our team of regional Business Development Managers who cover the whole of the UK and regularly meet local brokers and advisers to share product and lending policy updates.
We also offer brokers support with building their businesses through the Accord Growth Series. Providing blogs, podcasts and practical guides, the series provides free access to business development tools on subjects such as marketing, SEO and recruitment. The content is regularly updated and is currently subscribed to by more than 5,500 brokers.
What impact to local businesses will the Northern Powerhouse have and how is the Yorkshire Building Society involved?
Although Yorkshire Building Society is a UK-wide business with customers and branches across the country, our main head office site is at the heart of Yorkshire in Bradford and we're proud to be rooted in our local communities.
We recognise the need to prioritise growth across the north and the Northern Powerhouse has the potential to improve the lives of those communities, our customers and our employees.
Improving transport infrastructure is a key issue for many businesses in the north, including ourselves, and we're keen to see the government deliver on ambitious plans for HS2 and Northern Powerhouse Rail.
We're currently able to recruit local people with the skills we need, but we're considering the skills we'll need in the future. Devolution of power over education and skills to the north will enable civic leaders, business and communities to work as one to improve educational attainment and build a workforce with the skills needed in a strengthened northern economy.
What is the fastest growing threat that your company faces and what measures have you taken to protect your business?
Cyber-crime is a continually growing threat to the financial services industry. As more transactions move online, we're also unfortunately seeing an increase in cyber-crime across our industry and others.
Threats include organised criminal gangs seeking to steal customers' information or money. This threat is of particular relevance at the moment, as sadly, criminals are using the disruption and the uncertainty which many people are feeling to try and take advantage.
Cybersecurity is of paramount importance to us and protecting the Society and our members against fraud is one of our top priorities. Our aim is to minimise the risk of cyber-crime by keeping up to date with the changing threats, ensuring that we're taking a proportional and risk-based approach, and implementing up-to-date, robust and effective security controls.
Every colleague in the Society is regularly trained on cybersecurity and we're all responsible for protecting our Society and its members. We also encourage our customers to remain vigilant and protect themselves by keeping their details safe, regularly checking their accounts and reporting any suspicious transactions as quickly as possible.
Does the building society have a business division to assist with commercial mortgages and how does your offer differ from other banks and building societies?
Although we are primarily here to help people with a place to call home and much of our mortgage business is on the residential side, we do have a strong and growing commercial lending team.
We recognise the important role that commercial lending plays in the economy. We have invested in YBS Commercial Mortgages and have £300m available to businesses in 2020.
In 2019, we established regional hubs in Birmingham, Bristol and Manchester using our existing branch network to enable YBS Commercial Mortgages to operate on a national scale. Each hub has a dedicated team of local lending managers with strong knowledge and understanding of their local markets and existing relationships with brokers in their areas.
Through these hubs, we aim to provide a high-quality individual service. We've also added 27 new roles to the YBS Commercial Mortgages team to enhance our ability to support existing customers and continue to support new borrowers in London and the South East.
This year we're expanding our product range, enhancing our systems and engaging with more brokers to support businesses. We're committed to delivering tailored, individual service to our commercial lending customers, whatever the external environment.
Customers and the customer experience today's digitised world: what is Yorkshire Building Society approach to a digitised world?
Digital technology is transforming financial services and we're seeing customers increasingly transact online, with research showing that 73% of customers used internet banking in 2019.
Whilst we know that many of our customers still value face-to-face service, we want to provide our members with flexibility to transact with us in the way that's most convenient for them. Investing in digital can help us to work more smartly behind the scenes, giving our colleagues more time to provide customers with an empathetic, practical and personal service.
We made significant progress on our digital agenda in 2019, completing a number of key projects.
We successfully rolled out our new Mortgage Sales and Originations (MSO) platform for Accord, our broker-led service. The system dramatically reduces the amount of time taken to issue a mortgage offer, improving both the customer and broker experience. The software is also easier for brokers to use and cuts out repetitive tasks. Brokers still have direct access to our underwriters throughout and the system also has the ability for future application programme interface (API) integration with brokers and other third party providers.
Last year we also became one of the first UK financial services organisations to successfully meet the standards of the Second Payment Services Directive (PSD2), which is part of a series of initiatives designed to make payments and banking services more competitive and increase customer service.
We've been working hard on automating our processes to increase our efficiency and improve customer experience. This has helped to make more colleagues available to do what they do best – help our customers with more complex queries. It's also helping us to reduce the amount of paper we use.
We're continuing our digitalisation journey this year, with investment in this area continuing to be one of our priorities for 2020. We believe that continually improving our digital capabilities will to put us in a strong position to utilise opportunities in the evolving market.
We are looking for businesses to interview.
CONTACT US
Please contact us and increase your company online visibility