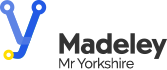 MrYorkshire
Keith has one of the most effective networks in Yorkshire and a high profile in the County of Yorkshire which he uses to promote and support many charities and businesses. The organisations he works with receive the benefit of his wealth of experience in the corporate, not-for profit, charity and financial services sectors, and from his ability to quickly identify key issues and objectives and turn them into actionable plans www.mryorkshire.com
His personal achievements include receiving an MBE in the New Year's Honours list in 2011 for Service to the Communities of Yorkshire and his appointment as Lay Canon of Ripon Cathedral in 2013 for Services to Business and Education. He was appointed an Honorary Fellow of Leeds Trinity University in 2018, again for Services to Education and Business and was appointed a Visiting Fellow of Leeds Beckett University in 2019 for facilitating links between businesses and the University.
He is also currently promoting a series of bestselling and award-winning educational children's books written by his wife, Chris, and has secured sponsorship and support from both regional and global companies enabling them to communicate effective messages to children. The characters are the humble traffic cones www.theconesbooks.co.uk
Keith is the Founder and Chairman of the Unity Club based in Leeds Beckett University's campus in the centre of Leeds www.unityclubleeds.com. The business club gives members the chance to meet in a prestigious business environment which has many benefits at city centre restaurants.
For further details contact:
keith@mryorkshire.com 07831 159800
We are looking for businesses to interview.
CONTACT US
Please contact us and increase your company online visibility